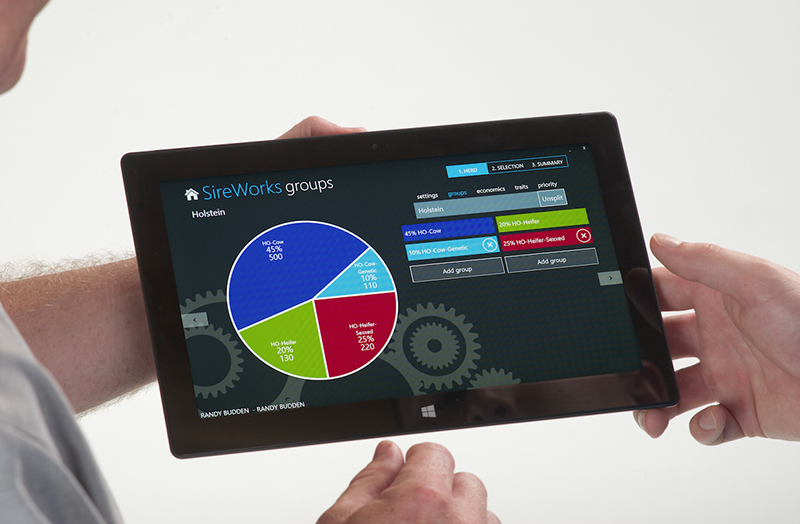 Launched in January 2014 in the US, SemexWorks is proving to be one of the most innovative, user-friendly technologies ever taken on to the dairy.
Utilizing a simple, touch, step-by-step process, dairymen work with their Semex Genetic Consultant to define their own breeding strategy based on individual goals and economics. Offering instant results and return on investment, Semex clients from coast to coast have been impressed with ease of use and the genetic selections that accurately meet their needs.
"A client of mine from Iowa has a family run operation that he operates with his two sons. One of his boys just graduated from Iowa State and self-admittedly doesn't know a lot about genetics but is eager to learn," says Scott Hodgson, Semex Genetic Consultant. "We had shown the father a demo version of SemexWorks last fall and he wanted his sons to see it. When we went back and went through the program, his son commented that 'SemexWorks is awesome and it sure beats fumbling through a book!' And, I couldn't say it any better."
"We are extremely excited to be offering our clients SemexWorks," says Paul Krueger, Semex Director, Sales and Business Development, USA. "We know dairymen are always looking for new ways to make their lives easier, while saving time and money. Now, they have access to another exclusive tool designed to do just that. SemexWorks makes defining your breeding strategies easy, and who wouldn't appreciate customized economics! That's Genetics for Life!"
"Our year over year, double-digit growth is directly attributed to Semex being the industry's only fully integrated AI ... Read More...