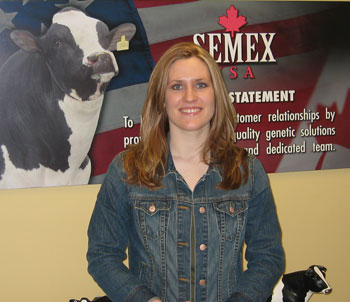 Semex USA is pleased to announce the promotion of Amanda Statz to Accounting Administrator.

Amanda is now responsible for the following areas: accounts payable, accounts receivable, credit and collections, expense reimbursements, assisting with month-end closings and year-end audit, along with assisting with general office support.
Amanda is a graduate of Edgewood College with a BS degree in Business with concentrations in management and accounting. In 2005, Amanda began her career at Semex USA as the Administrative Assistant, but was quickly promoted to a Customer Service Representative. Prior to her employment with Semex USA, Amanda worked in various jobs including accounting, office assistant, and sales associate.
"I'm excited to have Amanda on board as the Accounting Administrator," says Joe Magnusson, Accounting and Finance Manager. "Her business education, work experience, and her recent successes with Semex USA make her an ideal fit for this position. I'm confident that she will continue to excel in her career with Semex."
Amanda and her husband Russ reside in Waunakee, Wisconsin.
For more information on Semex USA's products and services visit www.semexusa.com, call 1-800-303-BULL or contact your local Semex USA representative and see how Semex Works Everywhere!
...
Read More...