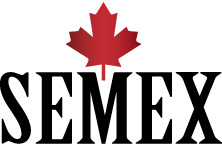 January 3, 2000 – November 24, 2008. Semex regrets to announce that the international breeding sensation 0200HO03205 Braedale Goldwyn has passed away.

Widely believed to be one of the greatest sires of his time, Goldwyn's popularity has continually been on the rise, adding numerous accolades to his already impressive resume each and every day.

"Rarely a day goes by that we do not hear from someone about their individual success with their Goldywn daughters," says Paul Larmer, Semex Alliance Chief Executive Officer. "It is truly remarkable to hear comments from dairymen worldwide about how Goldwyn has left his mark on their herd. Never before have we seen a sire with such impressive results in production, index, type and the show ring like we have from Goldwyn. Being named the first-ever top 10 TPI Premier Sire at World Dairy Expo this fall is certainly a testament to his breeding power and popularity. We owe a great deal of gratitude to the staff at Eastern Breeders Inc. for their care and assistance in his success. Although his passing closes one chapter, we are confident that there are many chapters yet to be written in the Goldwyn story."

Goldwyn, a Shoremar James son of Braedale Baler Twine VG-86-2YR-CAN 23* followed by the famous Gypsy Grand, arrived on the scene in November 2004 with a moderate proof, ranking #82 LPI. In February 2005 Goldwyn jumped to #5 LPI, adding 28 daughters and nearly 700 LPI points. Since then, his performance in Canada and around the world has surpassed all expectations.

"Goldwyn's career has been fascinating," says Julien Chabot, Semex Sire Analyst. "From the first time I went to see his original daughter group in November 2004, I have been a fan. With each genetic evaluation he has added daughters and maintained or ... Read More...