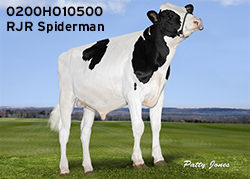 Semex has added four leading sires to its Genomax™ lineup, each contributing to one of the industry's most sought after and diverse lineups available today:
0200HO10576 Siemers Runaway is Semex's first Lottomax son and has an impressive +2627 GTPI, +812 NM$, +1943 PTAM, +0.10% F, +151 CFP with +6.0 PL and 2.88 SCS. His dam is a VG-86 Supersire x EX-93 Windbrook x seven more VG or EX dams, giving him a rock solid pedigree. Runaway is a HealthSmart™, Robot Ready™ and A2A2™ sire.
0200HO10577 Westcoast Kerrigan is Semex's #1 Kingboy son and is a HealthSmart™, Robot Ready™ and A2A2™ sire. He's stacking impressive figures of +2641 GTPI, +1446 PTAM, +764 NM$, +119 CFP, +0.05% F, +0.03%P with +6.6 PL, +2.0 DPR and 2.75 SCS. From a famous maternal line, his dam is a VG-87 Numero Uno x VG-87 Robust x VG-87 1* Planet Sapphire x EX-92-2E Bolton x five more generations VG/EX to Dellia.
0200HO10500 RJR Spiderman was released late February due to high demand as the #1 Pure son available. He carries the coveted Immunity+™ status and is also HealthSmart™ with +2641 GTPI, +729 NM$ and +2.40 PTAT, +2.19 UDC, +2.02 FLC. His dam is a VG-85 Numero Uno x Domain x another VG-88 dam.
Jersey breeders are taking note of 0777JE01043 Sherkholme Viroqua, an Influx x Perform x Merchant that transmits excellent udders (19.9 JUI), positive percentages from a different pedigree. Viroqua is HealthSmart™ and Robot Ready™ sire that is available Sexxed™ in the US.
Ask your Semex representative today about adding any of Semex's leading genomic young sires in the Genomax lineup today! For additional information on Semex, Genomax, or any of Semex's products or services visit www.semex.com