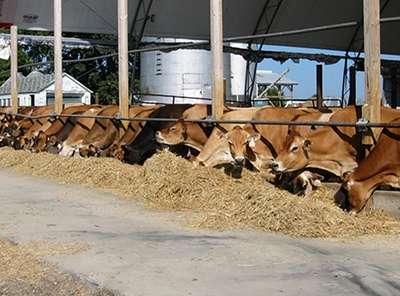 Worldwide no breed has experienced greater growth than the Jersey breed, and at Semex this is no exception with a record increase in Jersey semen doses sold in 2013 versus 2012.
Working shoulder-to-shoulder with our Jersey customers we recognize their unique needs and have established a group of Semex Jersey Support Specialists to support their genetics objectives and breeding goals. These team members are a key resource for all Semex Jersey clients and help ensure Semex is meeting their needs.
These individuals have extensive Jersey roots and are dedicated members of Semex's Team with a specialization in Jersey knowledge:
Eastern Region: David Ertl serves a dual role as US Jersey Sire Analyst and a Jersey Support Specialist for the Eastern Region. David attended The Ohio State University where he obtained a bachelor of animal science degree with a minor in agricultural business. Following graduation, David managed a 600-cow commercial dairy in central Ohio. His own herd, Ertl Jerseys, has ranked in the top 25% in the nation for JPI, and has had numerous bulls enter stud.
Upper Midwest Region: Londa Johnson has a dairy science degree from UW-River Falls, and following graduation spent two and a half years working for the US Jersey Cattle Association as an Area Representative and Linear Type Appraiser. Londa is also a Semex Premier™ Consultant, working with Semex's Premier herds and ProMate™ mating program.
Mountain Region: Allen Berry has been worked with Semex for three years but has been in the AI industry for 17 years. For the past 12 years he has worked with the Jersey herds in Oregon. These herds have been elite type breeders, extreme production herds and range in size from 40 to 2000 cows.
Pacific Region: Blake Renner from Fortuna, California has been Semex Dairy Genetic Consultant since December 2012 in the Pacific Region. Prior to this he was employed by the American Jersey Cattle Association an Area Representative and Linear Type Appraiser. Blake has a dairy husbandry degree from California Polytechnic State University.