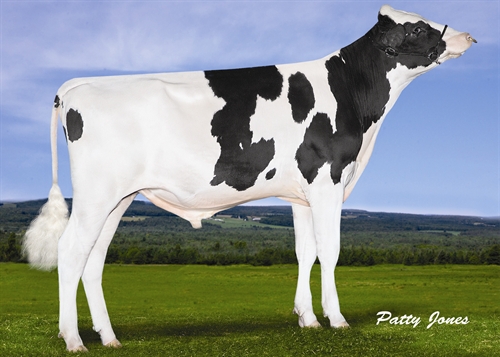 Semex understands the potential of the polled gene in the marketplace and on the dairy. Genetics for Life ensures that our clients have access to the tools and solutions they need to be successful. For our clients who are seeking a non-invasive solution to dehorning, the polled gene is extremely valuable.
New to the Semex Polled™ and Genomax™ lineups in the US is Semex's new #1 Polled™ bull, 0200HO06652 Lorka Zumba P. Ranking high on the heterozygous polled listing at an impressive +2326 GTPI, Zumba P offers +751 NM$, +1412 PTAM, 5.5 Calving Ease, +1.8 DPR, +5.8 PL and a solid +2.05 PTAT with fantastic udder traits.
A son by the popular Earnhardt P, his dam is a Meteor from a VG-87 4* Bolton with nine VG daughters to date and over 121,000 lbs of milk in just three lactations. Next is an EX-90 Cevis and then multiple generations of high producing, high scoring, profitable cows.
"We're working to meet the needs of the polled breeder," says Brad Sayles, Vice President Global Marketing. "The interest in these bulls has skyrocketed in recent years and our clients are looking to take advantage of the polled gene while incorporating the most profitable genetics possible. Adding Zumba P to our lineup certainly does this by offering high GTPI as well as great functional traits, tremendous mammary systems and solid type."
Zumba P is now available in the US. For more information on Semex, Genetics for Life, Genomax, Polled sires or any of Semex's brands visit: www.semex.com