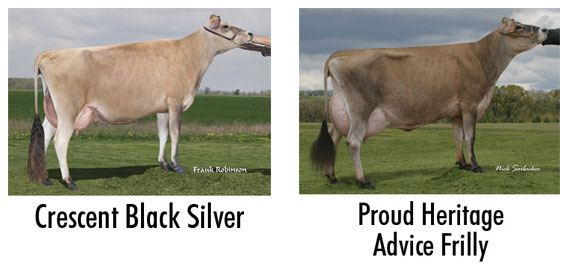 Semex adds much anticipated Jersey sires to lineup following April 2008 proof round.
Making his official debut in the #1 LPI spot, 0200JE00423 Lencrest Blackstone has arrived on the international scene and not left anyone disappointed. Dual sampled in the US and Canada, Blackstone ranked highly in the January JPI proof round, creating a great deal of excitement with his high combined production and type rankings.
Now in April, with an LPI of over 2000 points, a strong +8 for Conf, over 1000 lbs Milk and a combined 110 lbs fat and protein with 1.9 PTAT in the USA, Blackstone dominates the Jersey breed. His exceptional production breakdown offers tremendous yields for Milk, Fat and Protein with deviations of +.13%F and +.06% P. This kind of production profile makes Blackstone well-suited for all global markets, adding volume and quality to production outputs.
By BW Parade Blackstone's maternal line needs no introduction as it is the same cow family that still dominates the LPI listings, the Duncan Belles. His dam is Declo Belle EX-94-CAN, a former Royal Agricultural Winter Fair Intermediate Champion with 5-03 305 24,775 4.9% 1,208 3.8% 955 lbs.
Blackstone's progeny show his strength and overall functional type. His daughters have very well-attached mammary systems, with extreme support from a deep crease. Their rear udders are wide and highly attached with the capacity to support heavy production. They walk on a very solid, well-shaped foot with a great heel depth. These daughters are tall and long-bodied with great openness of rib, being top producing 2 Yr Olds in both Canada and the United States.

0200JE00940 Prairie Harbour Advice is the first Semex sire proven sire through US Jersey's Dairyland Jersey Sires.
Advice completes four generations of excellent dams of the Amity cow family that has produced many outstanding individuals for the breed. Sired by production specialist Janetta Barber Bill, the rest of his sire stack is completed by Alf, Brook, Duncan and Soldier. Advice enters the active market with a nicely balanced profile with great production yields and functional type. His JPI is a respectable 174, with a MACE LPI of 1303, mostly contributed by his production breakdown.
The highlight of each daughter is the rear udder attachment's height and width. Advice daughters also have great rump structures with plenty of width, allowing lots of space for those high and wide rear udders and keeps their rear leg stance correct and comfortable. Use Advice to quickly improve yields on the next generation, without any type sacrifices.