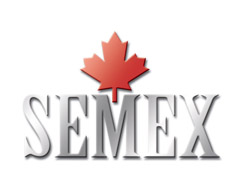 With each genetic evaluation Holstein Canada recognizes sires who reach elite standards in production, conformation and also genetic indexes through their Superior Production (SP), Superior Type (ST) and Class Extra (EXTRA) programs.
Eleven Semex sires have been recognized in April 2008 as Superior Production sires having combined genetic indexes for Fat and Protein in the top 5% of the Canadian sire population. Sires must have a reliability of at least 85%.
CANM101627624
BELFAST SAPHIRE (Champion x Lee)
CANM9113052
BENNER JOAH (James x Rudolph)
CANM9471989
CLAYNOOK ANTHONY (Stormatic x Rudolph)
CANM101376901
COMESTAR LOREL (Stormatic x Bellwood)
CANM100385065
CRACKHOLM MESSENGER (Champion x Inquirer)
CANM8852003
FREUREHAVEN ROGER (Morty x Aeroline)
USAM134221902
KERNDTWAY HOWIE-ET (Morty x BW Marshall)
CANM9351600
KLAYLAND KLANCY (Inquirer x Leader)
CANM101709244
MASSICOTTE NIRVANA (Champion x Stormatic)
CANM8744362
MAYBLOSSOM NEPTUNE (Morty x Rudolph)
USAM132307288
SANDY-VALLEY TATOO-ET (Marshall x Terry)
Four Semex sires have been recognized as Superior Type in April 2008. Sires winning this award are within the top 5% of the sire population for their type proof (Conformation, Mammary System, Feet & Legs, Dairy Strength, Rump) and with a reliability of at least 85%.
CANM7350094
BENNER ANSELM (Stormatic x Mattie G)
CANM8776169
MORSAN INSTAMATIC (Stormatic x Mattie G)
CANM9433271
RUSTOWIL STONEDEN ROX STAR (Boss x Aeroline)
CANM9462221
SUMMERSHADE ICE SCULPTURE (Blitz x Marty)