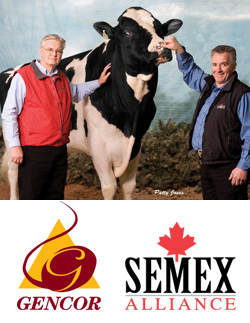 0072HO01758 Comestar Lheros EX-97-CAN EXTRA recently reached another impressive milestone in his life, surpassing the one million-dose mark and joining the elite ranks of Millionaire Sire Status at the Semex Alliance. Lheros joins an impressive fraternity of Semex sires including three other Comestar sires, Leader, Lee and Outside, and is Semex's ninth sire to produce over one million doses.
Born on November 11, 1996 at Comestar Holsteins in Victoriaville, Quebec, Canada, Lheros resides at Gencor, in Guelph, Ontario and has always been a leader in markets worldwide. A 99% reliability second crop sire, Lheros is known for siring daughters built to last, resulting in dairymen using him a second, third, fourth and fifth time in their herds.
"Lheros has always been popular," says Pierre Laliberte, Senior Vice-President, Global Genetic Programs/Operations. "This Laurie Sheik grandson transmits dairy strength and the correct rumps dairymen are looking for. Since his second crop daughters emerged his demand has steadily grown, and he has never been more popular than he is today! The Gencor barn and production staff have done a great job keeping him in excellent condition and are a major part of this success."
Lheros is a type leader in many markets, improving conformation and rumps with a total of 29,271 daughters in 11,249 herds classified worldwide and 68% GP or better in Canada alone, including 75 EX daughters. Among his highest classified daughters are Canada's Hendercroft Lheros Gumball EX-94-CAN and Windy Brae Lheros Irene EX-94-CAN.
The popularity of Lheros, Canada's highest classified bull, is also growing as his sons receive their proofs. Semex is home to seven proven Lheros sons with an additional 10 to come, the most popular being recently proven 0200HO01796 Stantons Sidney and 0200HO5139 Karona Bonair.