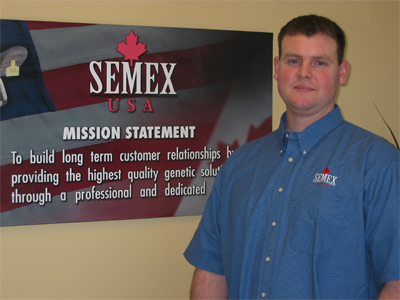 Semex USA is pleased to announce that Jeremy Cranston has accepted the position of District Sales Representative (DSR) in Colorado and Eastern Wyoming.
Cranston will be a full-service DSR who is responsible for maintaining and increasing sales volume with established accounts while aggressively seeking new customers in the sale of semen, programs, supplies and nitrogen to ensure profitable sales growth along with providing technician services into large dairies. He has previous experience working as an AI technician for other AI organizations as well as training in DHI Plus and Dairy Comp 305.
"I am really excited to have Jeremy join the Western sales team," says Andy Camara, Western Region Manager. "Jeremy brings vast experience for this unique dual-role DSR/Technician position that will profitably grow Semex USA's sales market in Colorado."

Jeremy, his wife Britney, and their seven children recently relocated to Colorado.

For more information on Semex USA's products and services visit www.semexusa.com , call 1-800-303-BULL or contact your local Semex USA representative and see how Semex Works Everywhere!