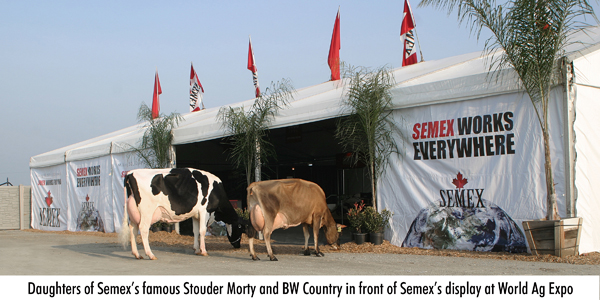 Held each year in Tulare, California, the World Ag Expo is a one-of-a-kind event. In its 41st year, this show attracts over 100,000 people from 71 countries to its newly expanded 2.6 million square feet of exhibit space!
California's World Ag Expo proved to be a logical location for Semex's Walk of Fame, putting 9 California dairy cows by popular Semex sires on display, showing breeders from up and down the west coast and beyond that Semex Works Everywhere!
"Our goal was to display Semex-sired daughters that large herd producers could relate to," says Joan Lau, Vice-President Marketing Semex Alliance. "It was the same kind of display Semex places at World Dairy Expo, the Royal Winter Fair and other premier dairy events around the world, with the animals showing off their rear udders and feet & legs. Dairymen were pleased with what they saw from us, and were impressed with the way Semex's genetics are working on large-scale California dairies."
Daughters of these popular Semex sires were showcased in the display:
· 200HO00044 Stouder Morty
· 200HO03067 Pursuit September Storm*RC
· 200HO00113 Cedarwal Spirte
· 200HO05042 Henkeseen Hyatt
· 200HO03070 Ladino Park Talent*RC
· 200HO01196 Hartline Taylor
· 200HO03315 Braedale Pagewire
· 200HO07317 Magor Bolivia Allen
· 200JE000989 BW Country.
"In planning this event I knew the Walk of Fame would excite our team members, customers and the public," says Andrew Camara, Semex USA Western Region Manager. "But when I was approached by a dairyman who has always used a competitor's product and he asked me if I had time to sit down with him and talk about what Semex could do for his herd, I knew we had accomplished our goal."
Additionally, visitors to the Semex display had an opportunity to register to win an all-expenses paid dinner for two anywhere in the world! Those who had their photo taken at Semex's booth at the World Ag Expo have until March 24, 2008 to view their photo online at www.semexusa.com and be automatically entered to win this once in a lifetime, all-expenses paid dinner for two, anywhere in the world!