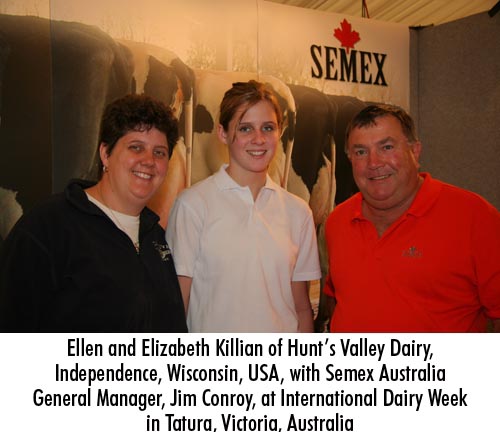 Submitted by Jim Lindsay, Semex Pty Ltd

Winner's of Semex's "Win A Trip To Australia" sweepstakes during World Dairy Expo in Madison, Wisconsin, Ellen & Elizabeth Killian of Independence, Wisconsin were among the many international visitors to the recent International Dairy Week in Australia.

The Killians were the winners of this popoular draw at Expo where anyone could enter to win by having a photo taken with Semex's Walk of Fame cattle display. The grand prize was a trip for two to Australia's International Dairy Week and a once in a lifetime chance to see Semex's own Ladino Park Talent *RC!

While husband Ellen's husband, Bernard, stayed at home to manage the family's 300-cow operation, Ellen and her daughter, Elizabeth, enjoyed a two-week tour of Australia.
Hosted by staff from Semex Australia, Ellen and Elizabeth visited a number of dairying operations along the picturesque NSW South Coast before travelling inland to the Riverina and northern Victoria en route to International Dairy Week (see panel).
Ellen said she was also struck by the difference in infrastructure required to run such relatively large herds. The average herd size in Australia is about 250 cows, although many family farms are now running 500 cows or more.
"The climate in Australia allows much more pasturing and rotational grazing," she said. "In Australia you see lush green pastures with really small buildings where they milk the cows.
"Back home, our cows are out on pastures a lot when they are young but once they start milking they're primarily in barns, although the dry cows utilise pastures during spring, summer and fall unless it's really cold or muddy.
"The infrastructure needed in Wisconsin makes milk production quite expensive. We recently expanded our operation to 270 milking cows and we had to spend more than $1.2 million on a free-stall building and environmental management.
"We live in a non-glaciated part of Wisconsin so we have a lot of slope and a lot of trout streams. Our government environmental agencies are very conscientious about protecting our valuable water resources and spreading manure is regulated.
"We have to be very careful not to allow run-off into the streams, so when we built our free-stall we had to put in a slotted floor barn with manure storage underneath. It can hold up to nine months manure but we try to spread it every six months during spring and fall."
The Killians milk about 270 Holstein and Jersey cows at Independence, about three hours west of the state capital, Madison. Average annual production is about 26,000 pounds of milk per cow achieved from a three times-a-day milking program, although Ellen and Bernard hope to coax this back up to 29,500 pounds as they bed down the expansion program.
The Killians have used Semex genetics in their operation since 1995. "Semex bulls have done well for us and are becoming increasingly common in Wisconsin," Ellen said.
"About 90 percent of the sires we use are from Semex. We like to use highly reliable sires, we know the proofs of these bulls are stable and we can use them most effectively.
"We are currently using Comestar Outside, Pursuit September Storm*RC, Ladino Park Talent*RC, EK-Oseeana Aspen, STBVQ Rubens*RC and Cedarwal Spirte, as well as R-E-W Buckeye and Emerald-Acr-SA T-Derek on the heifers."
Ellen, who supervises the breeding program, puts particular emphasis on production, high quality udders and feet and legs. "I grew up on the east coast and met my husband 17 years ago when I was working in Minneapolis, so farming is relatively new to me," she said.
"In 2000, I started learning about pedigrees and the selection of bulls. The biggest lesson I learned was to be patient and to use proven sires with second-crop daughters.
"I found Semex to be very reliable, their proofs were more true and they had the longevity so we could have a calf born, get her into the milking line-up and still be able to buy the semen for years to come.

"Comestar Outside bull is a great example of this - and now we are using his son, Blue-Haven Ltd Brick. Talent is one of my favourite bulls, and in fact, we have just bought 100 doses.
"We had several Talent heifers born in December and we hope to add even more to our herd over the next few years. Judging by the quality of the Talent daughters we saw in Australia, we won't be disappointed."
Semex representatives play a key role in the genetic improvement program. "As we have become bigger, we feel it is important to take a team approach," Ellen said.
"We need to surround ourselves with professional people who sincerely want to see our herd advance with our goals in mind. We really value the opinion of our Semex sales representative, Charlie Bue. Bernard and I select the bulls with advice from Charlie, and then let Semex mate them."
---
ELIZABETH KILLIAN COMPETES IN AUSTRALIA'S NATIONAL YOUTH SHOW AT INTERNATIONAL DAIRY WEEK...
One of the highlights of Elizabeth Killian's recent trip to Australia was the opportunity to lead a heifer in the National Youth Show at International Dairy Week, Australia's leading dairy exhibition.
The 14-year-old has competed in numerous county shows in her native Wisconsin but the National Youth Show, which attracts almost 250 entries across several states, was her biggest. "To be honest, I was pretty nervous," she admitted.
The second oldest of the Killians' five children, Elizabeth plays an active role in the family's farm and enjoys basketball, volleyball, softball, athletics and horse riding.
Despite enjoying her duties feeding calves and showing heifers, Elizabeth said her parents might have to look elsewhere for a successor at Hunt's Valley Dairy. "I would prefer to be in the medical field," she said.
International Dairy Week is sponsored by Semex Pty Ltd, the exclusive Australian distributor of livestock genetics marketed by the Semex Alliance, the world's largest artificial breeding organiation.